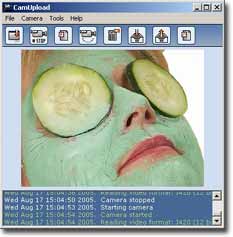 CamUpload main window.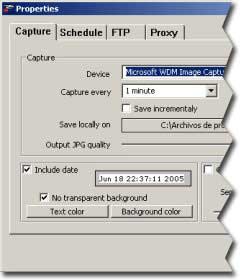 Properties window.
The old version 1.43 is not supported anymore
CamUpload 2.1 is available!
How to upload webcam images to your website
CamUpload is an easy to use tool for uploading webcam images to your website. Images created with CamUpload can also be stored in the local system or in any system in your LAN as JPG files.

CamUpload uploads an image at user preset time intervals, and can be configured to capture images only when movement is detected.

CamUpload uses its own embedded FTP client to send the webcam images to your website. It can work minimized in your computer tray, as a background task. Also CamUpload can be configured to start running when Windows starts up and activate your webcam automatically.

CamUpload is widely configurable, outputs jpg quality images, implements movement detection sensibility, prints the time stamp over the captured images and much more.

Download

CamUpload 1.43 (1.16 Mb), Uploads webcam images by FTP.
What's new on this version?
Its detection system captures any little movement.
Use CamUpload to receive an alert e-mail with the image attached when a movement is detected.

Also, CamUpload creates AVI files from your individual captured images using video compressor codecs installed in your system, making them lightweight and easy to distribute.

CamUpload have schedule options, it starts and stops the capture process automatically at predefined times.

Use CamUpload from within any LAN. CamUpload works with the most used proxy protocols, SOCKS 4, SOCKS 5 and Proxy FTP.


Who is behind CamUpload?
CamUpload is a software product copyright Spanto Soft S.L. Visit our main site in www.spanto.com.


Purchase
Unregistered CamUpload will add a small "Unlicensed Version" sign in some place of the captured images, and every time you run the program a dialog will asks you whether register it or not. Registered version won't have these limitations.

Support
Should you have any comments or questions, please, do not hesitate to contact us:
camupload@spanto.com


Registration benefits
- No tag added to the images
- No dialog reminds you to register
- Technical support via e-mail
- Free upgrade to all new versions


Supported video formats
CamUpload can capture images from the below list of video formats:

- RGB (16,24,32 bits).
- I420.
- IYUV.
- Y41P.
- IV12.
- YVU9.
- YUV9.

Supported languages
CamUpload is translated to:

- English.
- Spanish.